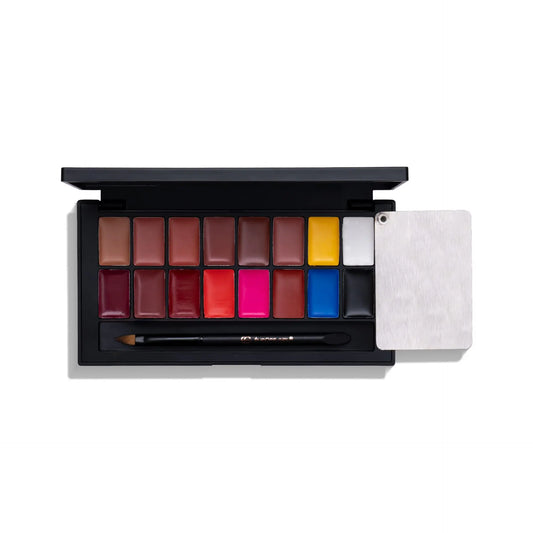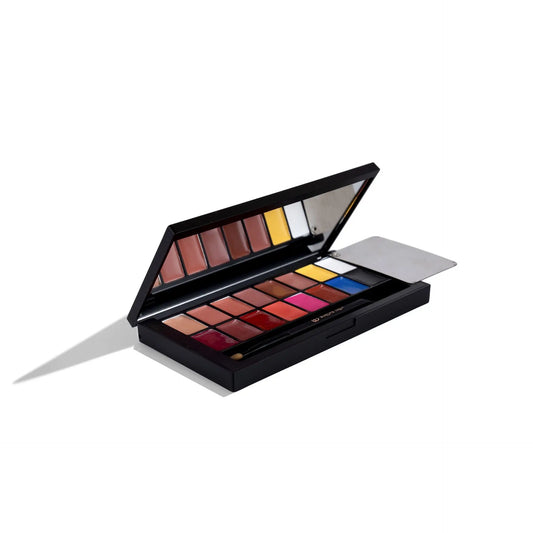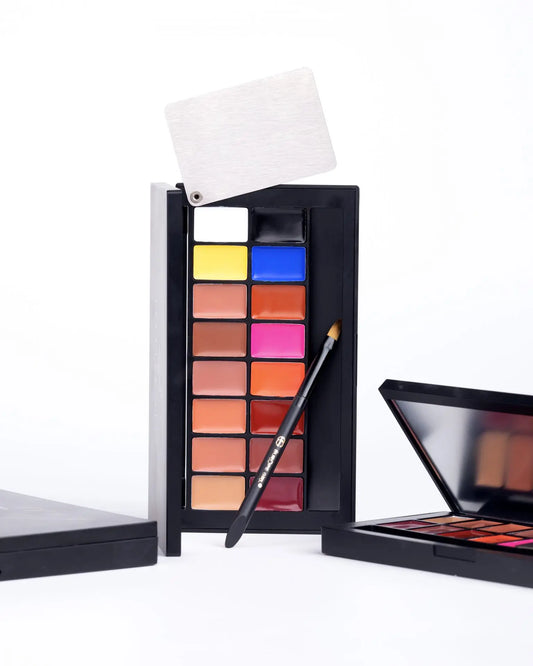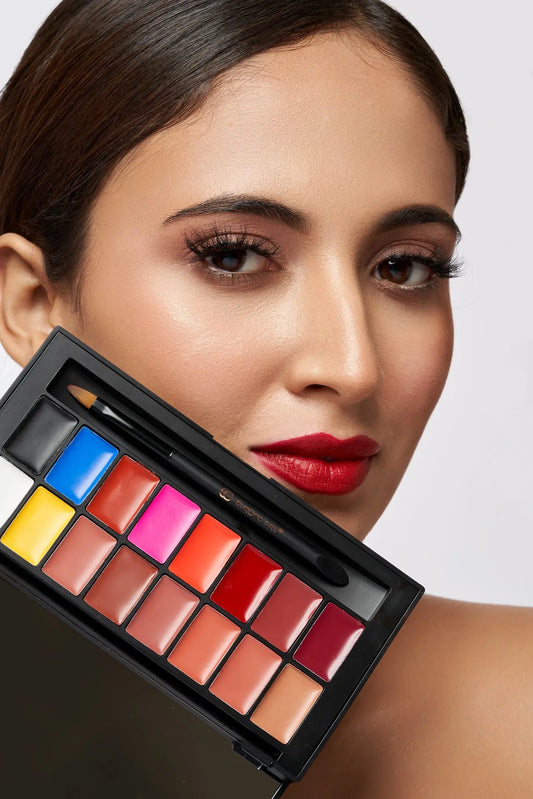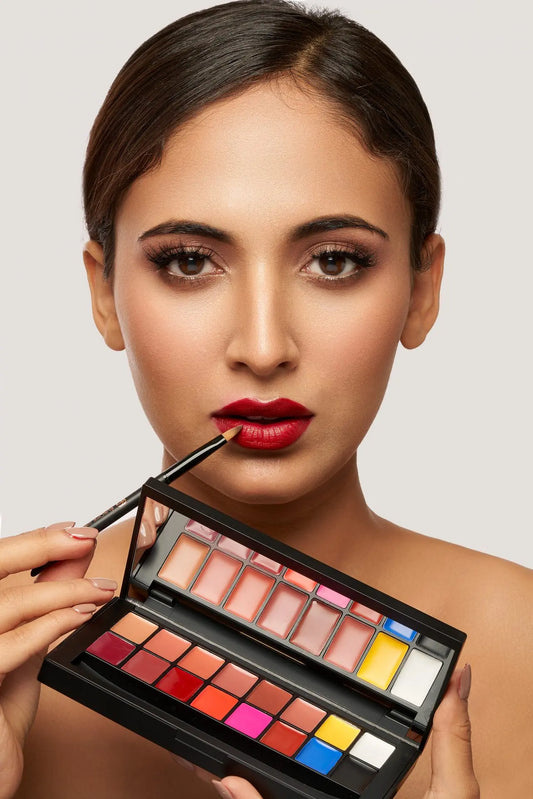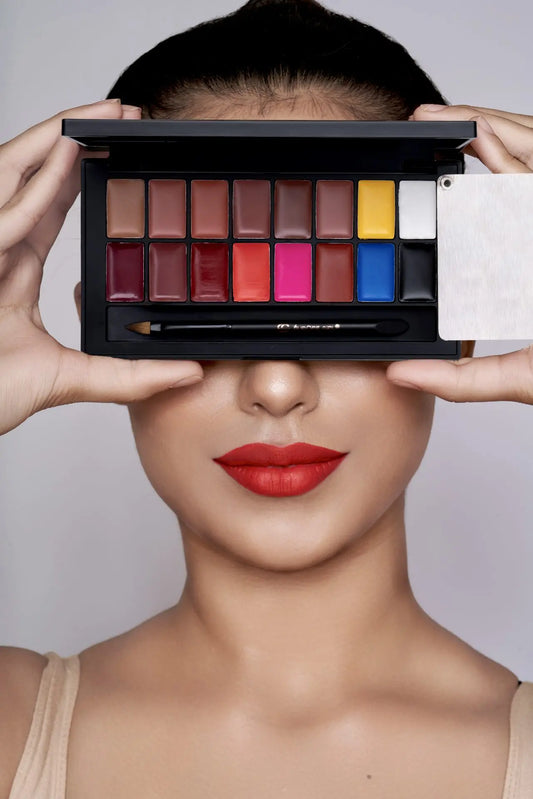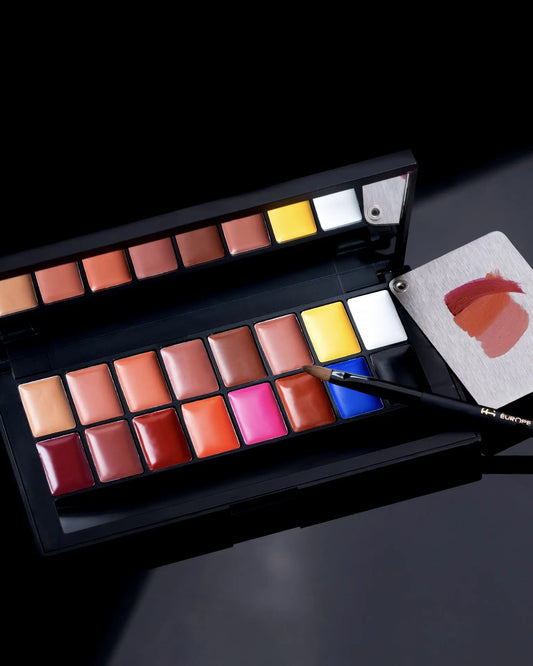 Kiss Me Lip Palette | Best Matte Lip Palette to Buy Online
Description

A professional matte lip palette in a range of primary colours, nudes, berries, and neutrals designed to blend together for endlessly customizable shades

Exceptionally rich and creamy velvet matte formula

Delivers one-stroke, intense pigment that's so lightweight it feels like you're wearing nothing at all

Comes with a dual-ended lip brush with spatula and aluminium mixing plate for easy customization

Enriched with lush ingredients for continuous comfort and lasting wear

16 fun and bright colours including five primary hues in blue, black, yellow, red, and white—to brighten, deepen, lighten, warm up, or cool down any lip colour

Row 1: Nude Golden Beige, Warm Pink Nude, Dusty Rose Nude, Warm Peach Nude, Mauvey Nude, Nude Mid-tone Warm Brown, Primary Yellow, Primary White

Row 2: Brownish Berry, Spicy Cinnamon, Scarlet Red, Bright Coral, Bright Fuschia Pink, Deep Wineberry, Primary Blue, Primary Black
Shipping & Returns

The standard ground mail service is shipped via Gojavas/BlueDart/Aramex/Ecom/IndiaPost. These packages out the same day for all orders placed before 1PM Indian Standard Time and the next day for all orders placed after 1PM Indian Standard Time (packages will arrive within 3-5 business days). Please be advised that shipments are not sent out on Saturdays, Sundays, or any Holidays. We do not guarantee arrival dates or times.
It's amazing lip pallet pocet friendly and i buy this two pallet one for my daughter personal use and one for my salloon i think all beautician must buy this
Opens the package to find a cute lip palette with sixteen super-colors and ultra-smooth texture....
Never miss out this palette it worth to try it on causes it a smooth matte finish and does not keep your lips dry....thank you EG and i recommend ..
Woah what an amazing lip palette it really niceeee and best to use... i would you sugggest you to buy it