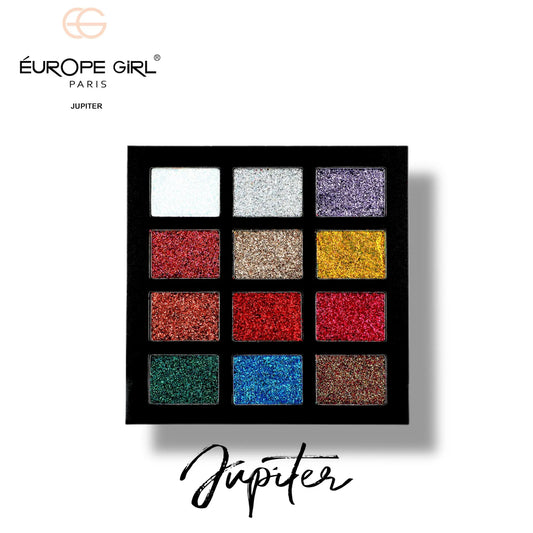 12 Shade Worth the Glow Glitter Palette – Jupiter
Description

Available in three shades: Mercury, Jupiter, Venus

Eyeshadow palette featuring twelve insanely sparkly pressed glitter shades that stay on all-day
This palette features a cosmic blend of whimsical fantasy like shades, balancing cool and warm tones
Can be worn alone or over a matte eyeshadow to give your look a multi-dimensional effect

How to use

Dab or swipe glitter gently with the tip of your finger.
Apply with a gentle patting motion, or swipe across desired location.
Repeat until you reach your desired density.
Remember, a little goes a long way! No glue is needed.
No fall-out.
Water Resistance formula!
Shipping & Returns

The standard ground mail service is shipped via Gojavas/BlueDart/Aramex/Ecom/IndiaPost. These packages out the same day for all orders placed before 1PM Indian Standard Time and the next day for all orders placed after 1PM Indian Standard Time (packages will arrive within 3-5 business days). Please be advised that shipments are not sent out on Saturdays, Sundays, or any Holidays. We do not guarantee arrival dates or times.
it nice and smooth Shades. This is specifically for a party look. Girls who live to the party must buy it. 😍
for me this a perfect palette for everyone. Every kind of shade available for night looks & the pigmentation is also quite nice. 😊😊
I simply loved this product. Pigmentation is very good, and the shades are really amazing to create a party look. Highly recommended. 😍
this glow glitter is the best eyeshadow glitter....i haven't seen any such a glitter eyeshadow which is dazzling and perfect for partyy
As usual, another good quality product from EG…the quality of the product is so nice... everyone can buy it for sure. 😊