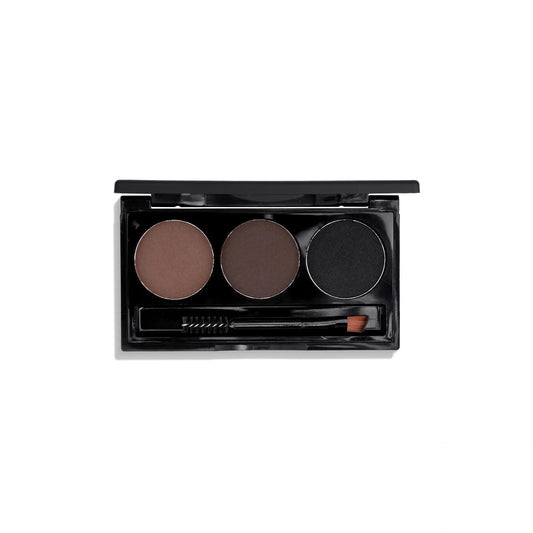 3D Sculpt Eyebrow Palette
Description

Instructions

Color the brows with the powder using angled brush style the brows with the spooled brush.
It has a soft brush applicator which gives you great control when shaping graphic and winged looks.
Gives long-lasting color for naturally beautiful look. Pallet has three colors (black, dark brown, light brown).
It also has a brush & mirror which can be used while travelling conveniently.
Not tested on animals.

It gives natural and thick well defined winged brows. It fills the brows with color complementing powder to make them beautiful. To give an edge to your brows you can style or curl them with the help of the applicator.
Shipping & Returns

The standard ground mail service is shipped via Gojavas/BlueDart/Aramex/Ecom/IndiaPost. These packages out the same day for all orders placed before 1PM Indian Standard Time and the next day for all orders placed after 1PM Indian Standard Time (packages will arrive within 3-5 business days). Please be advised that shipments are not sent out on Saturdays, Sundays, or any Holidays. We do not guarantee arrival dates or times.
I have never seen such an amazing palette which gives a simple and stunning look to your eyebrow. MUST BUY IT
It's an amazing product. 24hours staying. It's my genuine review I love this👌❤️‍🔥
this palette has such a perfect shade that suit every brow. I am pleased with the product thank you EG
The packaging is very nice 🙂 product is also good... easily applicable ... the first time I bought 3D Sculpt eyebrow palette products, and this brand impressed me ❤️
this product is brilliantly amazing. This was the first time i purchase; I am very happy after making this purchase because every penny is worth buying it.😍😍 my eyebrow now just looks perfect.